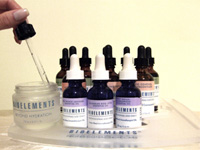 Skins are not just dry, oily, and combination. There's so much more to it. Therefore, I use Bioelements to target each client's specific needs by custom blending in the treatment and take home products with advanced ingredients including organic botanical, cosmeceuticals, and aroma therapist oils. Custom blend organic botanicals are derived from pure plant extracts and trace minerals to create formulas that soothe, heal, and strengthen the skin. Custom blend comeceuticals contain scientific ingredients that have pharmaceutical properties formulated to deliver results. Custom blend aromatherapist oils are blended from high-quality essential oils to effectively treat skin's specific needs via therapeutic actions.
For more information in regards to Bioelements, please visit Bioelements.com
I also use Spa Technologies in our treatments. Spa Technologies are organic, wild-crafted seaweed, free of chemicals, preservatives. Rich in mineral, enzymes, and fatty acids to nourish, detoxify, repair and protect skin. It's harvested in pure waters off Brittany and Iceland.
For more information regarding Spa Technologies, please visit SpaTechnologies.com
The best wax available. Lycon contains the finest natural ingredients and aromatherapy oils to suit the needs of the Client's skin & hair type instead regular hot honey wax and a must during all waxing, the skin is cleansed and protect with prep waxing oil. To close the hair follicle and prevent ingrown hairs, Tea Tree Soothe is always applied after waxing. This after-care solution calms, nurtures and restores the more sensitive skin.
For more information regarding Lycon, please visit Lycon.com.au